Season 4 returned stars Jason Earles, Leo Howard, Mateo Arias and Dylan Riley Snyder while Olivia Holt guest starred mid-season since she was starring in a new production on Disney Channel, I Didn't Do It.
Cast
Main Cast
Recurring Cast
Guest Cast
Episodes
Trivia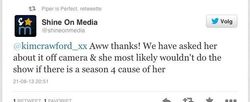 Former member of the main cast, Olivia Holt, is not going to return as Kim in the fourth season (confirmed by Olivia Holt). This makes the second season to lose a main cast member, the first was Alex Christian Jones, who left after the Season 2 finale. However, she appears in three episodes.
In this season Rudy opens up a new dojo and Phil opens up a Bowling Alley which Jerry now works at.
Kim returned as a guest star for the episode Seaford Hustle, You Don't Know Jack, and The Grandmaster 
It is unknown if Jack and Milton may still have future spy missions since Funderburk said their spy days are over.
jack directed Fight at the Museum.
This is the final season of the show.
The series finale aired on March 25th, 2015.