Welcome to Kickin' It Wiki,

the Kickin' It resource
Need help? Go to one of the admins: Zannabanna and KataraFan.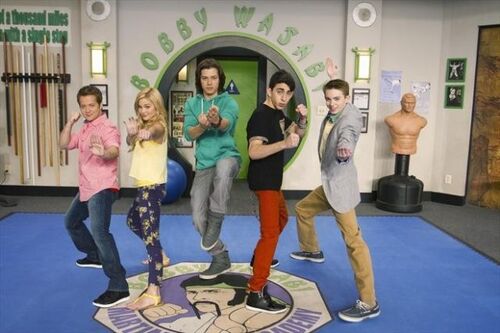 Kickin' It Wikia
The wiki about Kickin' It that anyone can edit.

420 articles since June 2011
Please read site policy before you start editing.

Today is the 24th, and currently there are 258,911 edits to this wiki.
Kickin' It is American comedy television series, which debuted on June 13, 2011 and concluded on March 25, 2015 on Disney XD. The series stars former Hannah Montana star Jason Earles, Leo Howard from Leo Little's Big Show and Moises Arias' brother: Mateo Arias. During the show's development, it was also known by the title "Wasabi Warriors". The pilot episode of Kickin' It was filmed in August 2010. This program is rated TV-Y7.
Season 4, Episode 18: The Grandmaster
Kim returns from Japan with her sensei, Tomo, who's interested in hiring Rudy for a position at the prestigious Otai. He interviews the gang about their sensei and after hearing about the impact he's had on their lives, Sensei Tomo makes Rudy the offer of a lifetime.
Congrats to Halia Stone for being user of the month!
Rudy Gillespie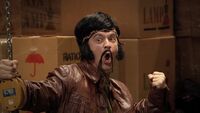 Rudy is the owner and sensei of the Bobby Wasabi Martial Arts Academy. He is a third degree black belt and is one of the few characters in the series that has beaten Jack. Though he's often childish, he is charming to the ladies and honorable when necessary. Rudy is portrayed by Jason Earles.

The Battle of Seaford Hill
Seaford is celebrating the bi-centennial of the famous victory at Seaford Hill, which was nearly lost by one of Jerry's ancient relatives. But when Jerry learns that history got it wrong, he sets out to prove that his ancestor was a true war hero.

Vote for the next featured episode and more here!
The ability of a company to obtain robust and defensible trademarks and domain names, and avoid infringement of other parties' trademarks, is of grea…
==Andrew Chong Illinois is a young artist with a passion for music and motivated to delve deeper into humanitarian work.
==
Andrew Chong UIUC spent mos…
Havana is becoming another one of Charles Russell Leone's favorite vacation spots. The beautiful Cuban capital is always booming with nice people, cu…