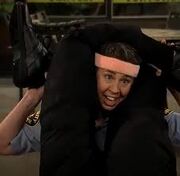 Joan Malone
 (played by
Brooke Dillman
) is a security mall cop who loves celebrity workouts and new inventions. She first appeared in the episode "
Dummy Dancing
", where the gang must sneak by her to obtain Eddie's video evidence [for more information see "
Dummy Dancing
".] She also has a male dog named King, is considered to be a good rapper, and has this thing for taking off her cop uniform in which she has a whole different outfit under it. As shown in "
Hit The Road Jack
", Joan thinks something is "going on" between Jack and Kim. Also in
Hit The Road Jack
, Joan is seen to be a
Kick
shipper. Joan is also the most "random" officer you may ever see. She has some awkward adventures with each of the main characters, and will always give you a laugh! She's also next to hopelessly incapable at her job. She is also desperate to date any guy who shows any interest in her.
History Trivia
All the Wrong Moves - she is one of the desperate woman who bought Pocket Ninja in hopes of having someone to talk to/date.
Badge of Honor - she was shown to have a horrible social life while in high school.
Skate Rat - she is shown to have amazing skateboarding skills.
Hit the Road Jack - it is revealed that her shoe size is 8 1/2.
All the President's Friends - Her last name is revealed to be Malone. She stars as Juliet in Rudy's play.
Oh, Christmas Nuts! - she bans Jerry, Milton and Jack from the mall after believing they stole from Santa's Village
Spyfall - she gets bitten by a diseased lemur and gets Madagascar Madness
Dueling Dojos - She joins the Bobby Wasabi dojo
Trivia
Appearances
Community content is available under
CC-BY-SA
unless otherwise noted.