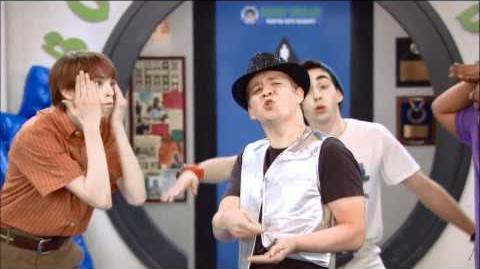 The Black Belt Boyz are the boy band that the Wasabi Warriors (minus Kim and Jack) put together in the episode Ricky Weaver.They have Rudy as their singer but hes Terrible.
Members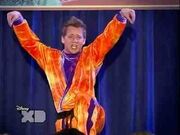 History
The Black belt Boyz were last seen in the Bobby Wasabi Dojo jamming out to the Haukmuck Boys song Baby's Got the Noosh. But it wasn't alway that way.
The band first formed when Milton, jerry and Eddie where making fun of popstar, Ricky Weaver. Milton said that they could be much more successful and the boys decided that they would create a pop group to get the money and girls.
Only one problem.
They needed a lead singer. That's where their Sensei rudy came into the picture. Rudy used to be a part of a group Just Us Guys and had a hard time deciding wherether to join the group or not. As soon as he heard that he could be the lead singer he inmediatly picked up the job.
Soon after they came up with they're first song Love Ninja (As seen above). The boys needed somewhere to perform and Rudy came up with a brilliant idea. Play at a Ricky Weaver concert. However they would never get booked for the ultra-mega famous popstar's Concert. The group did the only thing they could do.
Take the stage by force. Ninja Style.
Rudy dressed up as Whaley the Whale, the mascot of the school Ricky Weaver was playing at. they three boys all took hanggliders down to the stage once Rudy had taken power of the crowd. Security was called and the Black Belt Boyz had to move fast.
However the boys didn't make that performance. the hang gliders sent the boys into a wall and security was on the scene. The Black Belt Boyz ran.
The next time we saw them they were breaking up. Rudy blamed the boys for their bad perfomance because the boys crashed into the walls.
Jerry and Eddie later went "solo" together. Rudy then left the group because he could do better on his own.
About 10 seconds later the band reformed and atracted the attention of Falafel Phil. he mentioned he was in a band and the boys quickly picked him up.
10 minutes later Phil was kicked out because he was a stage hog and and he earned his way back into the band by jamming out to Baby's Got the Noosh with the band.
That was the last time we see the Black Belt Boyz.
Community content is available under
CC-BY-SA
unless otherwise noted.